Slow Motion: A Memoir of a Life Rescued by Tragedy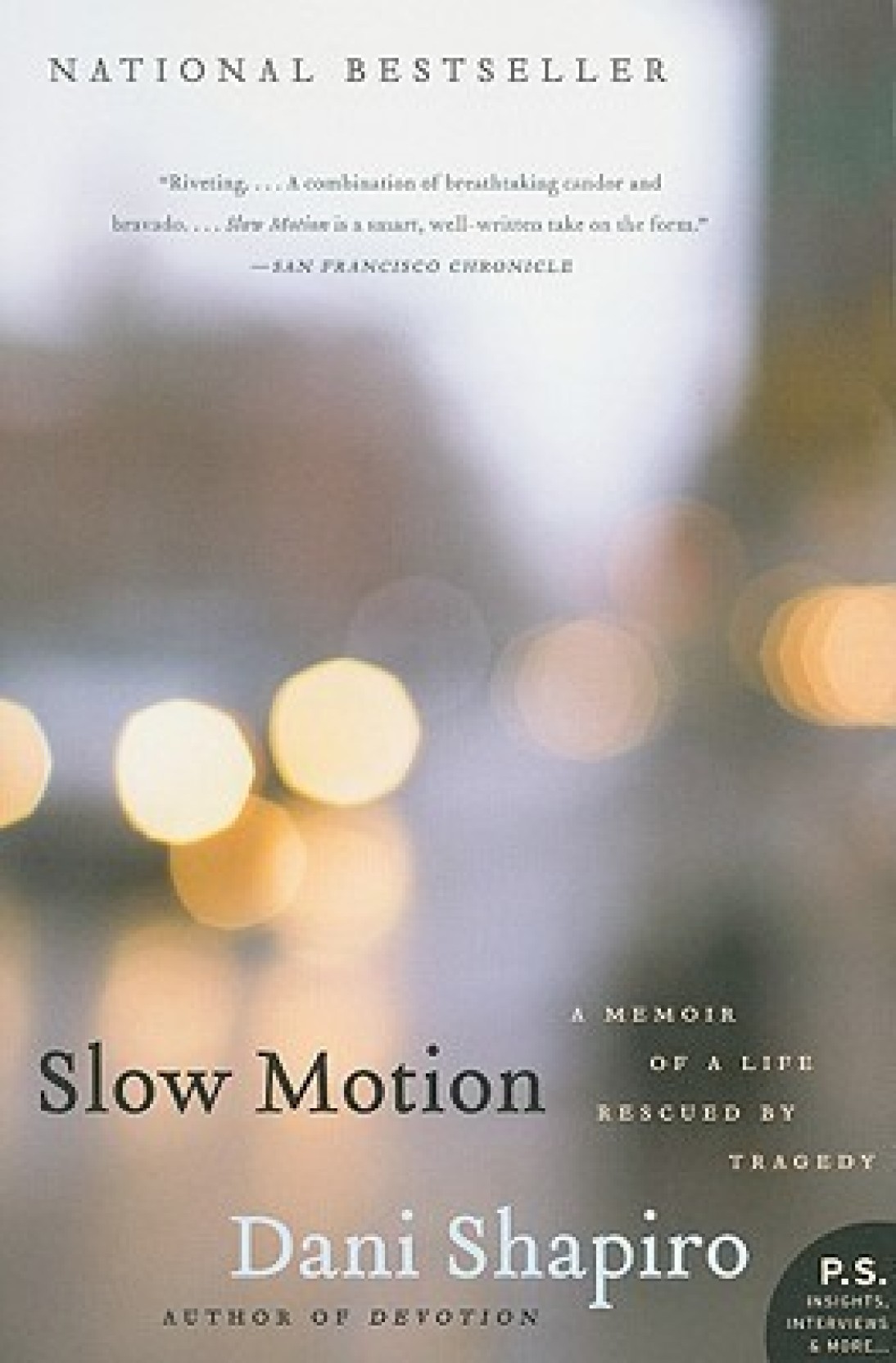 At twenty-three, Dani Shapiro was in the midst of a major rebellion against her religious upbringing. She had dropped out of college, was halfheartedly acting in television commercials, and was carrying on with an older married man when her life was changed, in an instant, by a phone call. Her parents had been in a devastating car accident. Neither was expected to survive. In her first memoir, Shapiro offers this powerful true story of a life turned around—not by miracles or happy endings, but by unexpected personal catastrophe.
Cogent and unforgettable.
- THE HOUSTON CHRONICLE
Absorbing, sweetly stinging…Shapiro's book succeeds as a gracefully written story of reckoning inspired by tragedy and the long reach of familial roots.
- Elizabeth Bukowski, THE WALL STREET JOURNAL
Shapiro's writing has the spare elegance of a thin, gold bracelet–with all the timeless appeal and elegance and fine craft that implies. Her self-examination is untainted by self-pity…A great piece of writing and an inspirational tale…SLOW MOTION illuminates the rocky road to integrity in graceful but wrenching steps.
- Lily Burana, SALON
Notably free of self-pity and rigorous in her scrutiny, Shapiro doesn't spare her lover, her family, or herself, yet there's emotion on these pages that is rare among the recent spate of confessionals. The result is a story that isn't perversely voyeuristic, but simply rewarding.
- Vanessa V. Friedman, ENTERTAINMENT WEEKLY
Well-crafted and full of juice…
- Marion Winik, NEWSDAY
Shapiro does not sugarcoat her life; she writes with an eviscerating, raw honesty about the wrong turns and mistakes she made. She is equally harsh with her family, capturing the jealousies and pettiness they refuse to put aside in a time of calamity.
- Boston Globe
Stylishly written … splendid … Shapiro's prose is seamless.
- Newsweek
Shapiro is an uncommonly fine writer who seems effortlessly to combine a lean prose style with acute observational detail…Shapiro's book should be celebrated not as a morality tale, but as good literature.
- The Guardian
Remarkable and painful…Shapiro lays bare her own young and fractured self with searing candor. The result is moving, comic, and bitterly self-aware.
- The Times (London)
There is a gritty honesty to [Shapiro's] cautionary confessional that will alert others to listen for and respond to wake-up calls of their own.
- Diane Cole, The New York Times Book Review